The Gift of Nursing: Sonny and Sandra Launey's plan for the future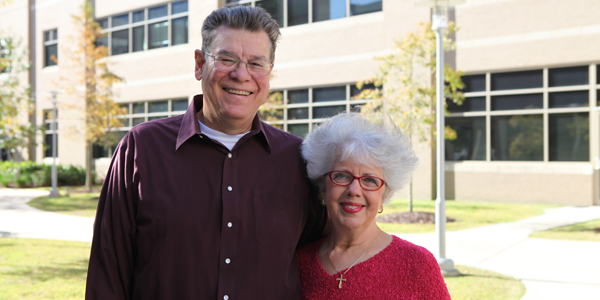 Sonny and Sandra Launey, long-time supporters of the University, are humble, thoughtful people; they have deep and abiding Catholic faith making a life-long commitment to serving others.
A native of Ville Platte, LA, Sandra graduated from Our Lady of the Lake School of Nursing in August 1962, the last class of the three-year diploma program before it was shortened due to a prevailing nursing shortage.
More than 60 years later, the need for nurses due to the pandemic is upon our society again. Nursing students benefit from the generous giving of the Launeys each year.
About his wife, Sonny Shared, "One of the most important things Sandra will be remembered for in our lives is because of her nursing training. As her husband I am very proud of her and the skills she shares with our extended family and many, many friends."
The Launeys have graciously named FranU as a beneficiary in their estate planning so that FranU students can continue to be blessed by their generosity. This type of donation is called a planned gift and is becoming an important aspect of estate planning. Other types of planned giving include a bequest, charitable gift annuity, deferred gift annuity, charitable remainder trust, retirement plans, insurance and real estate.
Planned gifts provide flexible and creative strategies for interested donors to pursue charitable and financial goals. With careful planning, you can receive an immediate tax deduction and provide an annual income while supporting Franciscian Missionaries of Our Lady University.